Ever feel like you're on a content treadmill? You're cranking out blog post after blog post, complete with visual elements, subheadings, solid data, and helpful advice. You're following all the rules and best practices. But no one is reading, sharing, and converting.
GetApp polled blog readers to find out what annoys them most about the blog posts they read. Their number-one complaint — ranked above misleading headlines, unhelpful content, and obvious sales tactics — was bad writing.
Good writing is more complicated than "use bullet points and short paragraphs" or "try adding images to your posts." That's window dressing. I want to provide concrete ways to actually improve the quality of your writing, not just the format. So here are five writing habits that are killing your content marketing:
1. Trying to prove you're smart
This is the number-one mistake novice writers make.
Everywhere I look I see long paragraphs, complicated sentence structures, and big words where small ones would work better.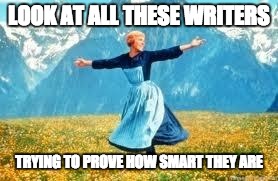 You know how cringey it is when someone is talking and you can tell they're trying to sound smart? It doesn't go over any better on the page.
It's not your fault, young writers. Teachers demand that you to write in long paragraphs, complicated sentence structures, and use big words. That's because your teachers don't know how to write either. If you want to learn how to write, look at writing that actually works.
Fundraising emails, high-converting ads, blog posts that get shared, none of them resemble term papers. So why do beginning content marketers insist on writing like they're still in school?
Here's a tip from a veteran: No one cares how smart you are. They care that you get them the information they want in the most clear, concise, and compelling way possible.
But if you do want to prove you're intelligent, remember this: Brilliant minds clarify, small minds confuse.
2. Not telling a story
I'll never forget my copywriting internship. It's how I realized that I don't want to write for an ad agency. Too much ego. Too many hours. Not nearly enough pay.
But I did learn many valuable lessons about marketing, psychology, and writing.
One day our Creative Director was showing the interns his spec ads for the Toyota Prius. The ads made a visually compelling comparison between driving a gas-only car and smoking cigarettes. I raised my hand to point out that once you factored in shipping the batteries over from China, the Prius's emissions were actually on par with gas-only cars.
The Creative Director snapped at me with a glare, "No one cares." I wanted to argue with him. But what I've learned over the following eight years in communications is that he was right and I was wrong. No one wants to talk about facts until you hook them in with emotion.
If your writing doesn't tell some sort of story with an emotional hook, it's only drawing in the small minority of readers who are already emotionally invested in what you're trying to convey. That's a huge missed opportunity. And even for your readers who are invested, a story helps them synthesize what you're writing.
Marketing Blogger Jeff Bullas advises content marketers to share stories to make your content highly engaging. "Stories that are interesting and suspenseful have a way of keeping readers hooked," Bullas wrote. "Go ahead and engage your readers with personal stories or experiences, and enlighten your readers with something they may have never known."
3. Writing for your boss, not your friend
Going back to sounding smart, people often equate dry with serious and serious with worth reading.
Dry wit = good. Dry writing = bad.
When's the last time you had an extended conversation with your phone's AI? Siri and Cortana are great for quickly finding information you know you want. But they're not a joy to interact with. That's because people want to connect with people, not robots.
Great writing has a voice. The best writing can be identified in a lineup. Think about your favorite writers. Would you know them without their bylines? Of course you would. Your writing should be like that. Serious doesn't mean boring.
Love her or hate her, Ann Coulter is a great writer. I remember reading an interview with her years ago where she said she writes her columns like she's writing an email to a friend.
Think about how to write to your friends: Informally, concisely, with flavor and humor. That's how you should write for everyone. Write like you're a human, and your readers are friends.
Bullas also advises content marketers to find their voice in their writing. "One of the easiest ways to add that 'unique' quality to your content is to align your writing (or content) with your thinking and speaking habits," Bullas wrote. "It also adds to your blogs and content if you try to offer your own opinions and perspectives which may be different from those of others. Aside from the fact that readers appreciate fresh perspectives to stale content, new ways of thinking also add to the quality of your blog."
4. It's fact-free
Stories and emotion are the vehicle for getting in the door. But your writing needs to do more than entertain. It needs to inform.
Your opinions are not facts. You are not an expert. Even if you are an expert, your facts need sources. If you say that more and more people are doing X, you better point to something I can trust for that piece of information. Maybe it's just a guess based on some anecdotal evidence. If so, state that.
5. There's no call-to-action
This is perhaps the worst sin of all. Every piece of content you create should have a purpose. There must be something you want your readers to do, think, or feel as a result of reading your post. Whatever it is, you're more likely to get what you want if you ask for it.
You're also unlikely to get better at writing if you can't tell how good your writing is. Writing quality is subjective. A call-to-action that's objective gives you vital insight into your writing's effectiveness. If you ask for shares and today's articles get more shares than yesterday's, you're doing something better today than you did yesterday. Same for comments.
If you're writing for business, it's essential that you write for readers at all points in the sales funnel. Make sure you're incorporating CTAs that move readers down the funnel.
Conclusion
I read a lot of writing on the internet. Believe me when I tell you that if you just don't do these five things, you'll be head-and-shoulders above 99% of writers out there.
Here's my CTA: Leave a comment below with your most frustrating bad writing habit. It can be a habit you need to kick, or one that you see often and hate.