[Update 11/29/17: This post has been updated to reflect more recent information and technology]
You want the most up-to-date technology.
You want to be on the cutting edge in eLearning.
You want the best learning management system, the greatest course authoring tech, the best of the best.
You want…PowerPoint presentations!
Why use a PowerPoint?
I know, I hear you. A PowerPoint? Seriously?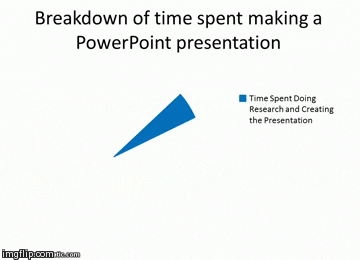 I mean it. A PowerPoint is your secret weapon to creating effective and engaging corporate training and eLearning programs. There are a myriad of ways to hack PPTs to make them work for you and your learners; the key is knowing when to use them.
Below, I'll explain when to use a PowerPoint and what choices you can make to maximize their efficacy.
When should you use a PowerPoint?
Just because something is a great tool, that doesn't mean it's always the right tool. A hammer won't help when you need a screwdriver.
PowerPoints are a great eLearning tool to use when you're reaching a distance audience and can't communicate face-to-face. They work best as single blocks of information on one dedicated topic, rather than an overview of multiple subjects.
If you have a single topic to cover in your lesson, a PPT is a good choice.
Three ways to approach PowerPoints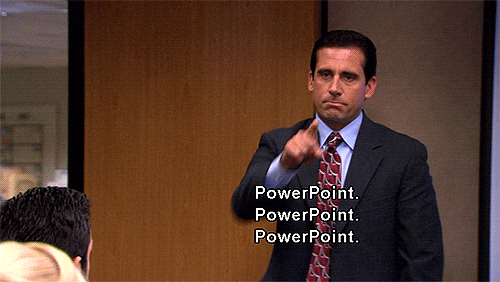 1. Revamp your look
If you're hesitant to try PowerPoints for eLearning, it's probably because you have an image in your head of awful slideshows you've sat through in meetings or classrooms. You know, the ones using "fancy" transitions for each slide and clip art that bounces around the screen a few times before settling down in an awkward overlap.
This is not what you want for your corporate training PowerPoints. Don't use any clip art, animations, word art, or transitions in your show. Keep everything as professional and clean-looking as possible.
When it comes to backgrounds, it's not a bad idea to ignore the offered default templates. You wouldn't want to see any crayon decor in the margins when learning at work, so don't subject your learners to it.
 KEY TAKEAWAY:  Look online for modern, sleek design options. There are tons of free PPT templates online, including some made specifically for eLearning.
2. Multimedia is your friend
Cutting out the clip art doesn't mean that your PPT should be visually dead. You want images and video, you just need to make them count.
Have a complex topic to explain? Try a graph or a chart.
Need to impart a lot of small chunks of info? Make an infographic.
If you feel like your slide count is running a little long or you have in-depth instructions to give learners that a brief overview won't cover, video is a great fit for the PowerPoint format.
 KEY TAKEAWAY:  Avoid any image that doesn't have a purpose, and follow these simple tips to make your video content pop.
3. Don't think of it as a presentation
The biggest departure from the tired old PPT style is in how you approach it. If you go in planning to make a slideshow, you've already lost.
You don't need a slideshow, you need a lesson booklet.
If you think about your PPT as a small book about a given topic with each slide acting as a single page, you can change your whole approach. This view means that you're not merely using bullet points or vague notes, dropping in an image without explaining it, or relying on an oral component.
Treat your PowerPoint as its own complete lesson, and eLearners will view it the same way.
 KEY TAKEAWAY: Changing a PowerPoint from a visual aid to the main learning focus lets you give it the attention it needs to be strong enough to stand on its own.
Are you ready to embrace PowerPoints?
Hopefully these tips have decreased your skepticism enough to give PPTs a shot. Still have questions? Want to tell me how wrong I am? Hit me up in the comments below, or tweet me @CapterraHalden.
Want to learn more about course design tech? Check out these great articles: